UW Husky Tennis Club 2017
Welcome to Tim Carlson's Personal Fundraising Page!
Help UW Club Tennis represent the Pacific Northwest at the National Championship!
Each year, this team has competed together, coming closer and closer to qualifying for nationals, and this year we have achieved this goal. Now it is the last year for many of us to compete together as a family and we would be beyond honored to represent the University of Washington and the Pacific Northwest in the National Championships this spring. For many of us to finish our last year as students, competitors, and teammates in Florida is an experience we will remember for a lifetime.
Help us to complete this journey with an experience of a lifetime.
Who are we?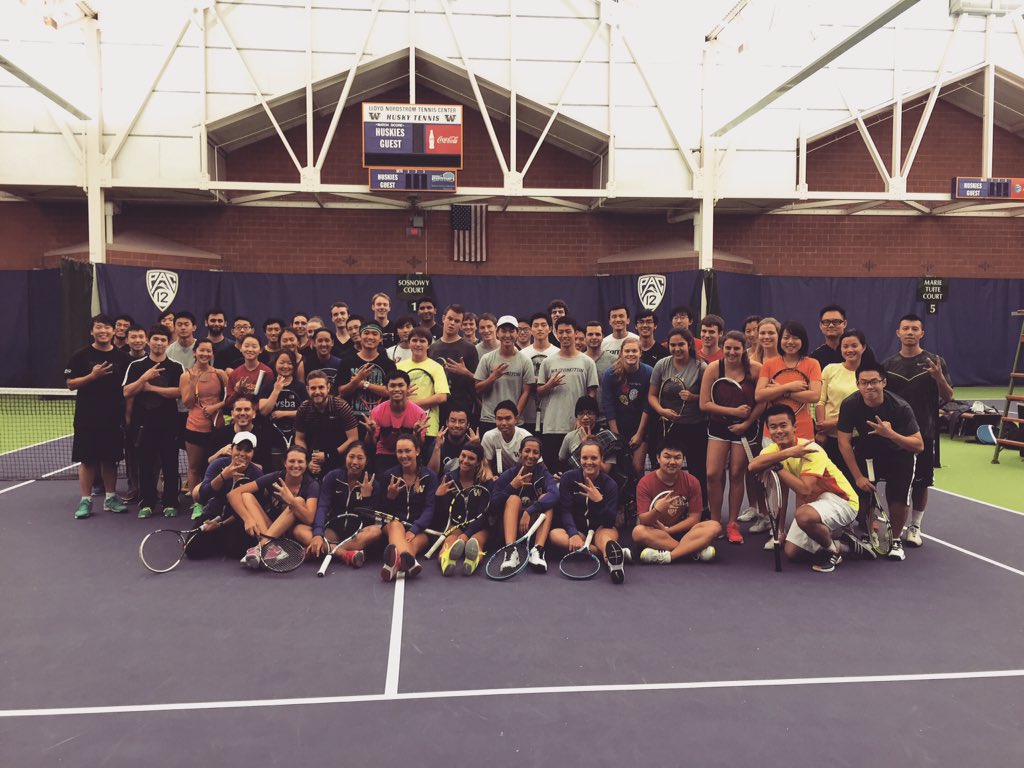 Husky Tennis Club is the University of Washington's premier athletic club for all tennis enthusiasts - undergraduates, graduates, faculty and staff! We organize practices three times a week for all members, as well as quarterly events such as our annual Fall Fling or Mixed Doubles BBQ. Additionally, we also organize travel tournaments for our more competitive members. We compete all around the Pacific Northwest, in Oregon, Washington, and even Canada!
---
What are we fundraising for?

This year we attended the Tennis On Campus Pacific Northwest Championships in Tualatin Hills, OR, and out of 27 teams, we emerged victorious! This win qualified us for the Tennis On Campus Nationals Tournament, the goal of our fundraiser.
---
Where is this tournament being held?
This year's Nationals will be held at USTA's brand new National Headquarters in Orlando, FL. We hope to raise enough money to give us a chance to compete against the best North American college club teams at this beautiful 100 court facility.

---
Budget Breakdown
Our projected costs can be seen above. The $8000 we hope to raise will go towards the cost of travel, board, and play.
---
When is the tournament?
USTA's Tennis On Campus Nationals tournament will be held from April 13-15. Consequently we hope to raise enough money by the second week of April.
---
Why should you donate?
In addition to being some of the most passionate tennis players in the country, our travel team this year is one of the strongest in this club's 15+ year history. We put in the time and effort to hone our skills week after week, and after having conquered the Pacific Northwest Region at the Sectionals tournament, we would like to test our mettle against the finest college club teams North America has to offer. Your donation can help make our dream of attending Nationals come true!
Essentially, between 3:00pm-9:00pm on Tuesday March 28th only, at the University Way Chipotle location (4229 University Way NE, Seattle, WA), if Chipotle customers at this specific location show our displayed Chipotle digital flyer or just mention "UW Husky Tennis Club" at checkout, our Club will receive 50% of these proceeds! Any support would be much appreciated!
---
Brandon Nakata
Gave $30.00
Doug MORRISON
Gave $100.00
John Phillips
Gave $100.00
sally nakata
Gave $100.00
Michael Carlson
Gave $100.00
Sylvia morrison
Gave $50.00
Tamara Richards
Gave $100.00
Tuoc Luong
Gave $1,000.00
Kathleen Powers
Gave $25.00
Timothy Thomas
Gave $100.00
Jocelyn Cronkhite
Gave $100.00
Christina Ruelas
Gave $25.00
Jodi Landefeld
Gave $50.00
Patrick Caskey
Gave $100.00
Chrissy Morgan
Gave $100.00
Stephanie Wang
Gave $20.00
JAMES MORRISON
Gave $100.00
Cherry Safford
Gave $20.00
ALAN JONES
Gave $1,000.00
Thomas Bombeli
Gave $100.00
Douglas Doenges
Gave $50.00
David Morrison
Gave $200.00
Lynn Huggins
Gave $100.00
21 supporters have chosen not to be listed for "UW Husky Tennis Club 2017 ".
Make an Impact
I Would Walk 500 Miles...
Give $20
A gift of this amount will pay for a one-way trip via Uber for the team's travel accommodations between the hotel and the venue, or vice versa, which will eliminate our need to walk a great distance between specified locations.
No Member Left Behind
Give $50
A gift of this amount will help cover the team's transportation accommodations for the day while in Orlando, while managing to leave no team member behind.
Shelter From the Rain
Give $100
A gift of this amount will pay for one member's lodging fee for the night, to ensure a restful nights sleep for a lucky team member.
No Strings Attached
Give $500
A gift of this amount will cover the tournament entry fee as well as cover all stringing costs for all team member's rackets throughout the duration of the tournament.
Commuting Coast to Coast
Give $1,000
A gift of this amount will provide round-trip airfare for one and a half people on our team!
Tennis For Life
Give $2,000
A gift of this amount will provide round-trip airfare for 3 of our team members! -For this donation, you will be dubbed a lifetime member of our Husky Tennis Club, able to join any practice or event!
A gift of this amount will cover airfare for two-thirds of our entire team! -For this donation, we will rename one of our two yearly major events after a name of your choice (e.g. Brian Hou's One-night Fall Fling, Brian Hou's Hand-Tossed Mixed Doubles BBQ). Furthermore, we will personally send you live updates of our progress daily and provide you with video footage from the day's matches.