Welcome to John Sahr's Personal Fundraising Page!
We're sending a spacecraft to the Moon --- and you can help!
I am so excited to be part of this effort to send a small spacecraft to the Moon. In 1969, at age 8, I rode upon my father's shoulders to see the first images of Armstrong and Aldrin on the Moon, at the only TV within 50 miles. But now, I get to work with students at the UW to build a new spacecraft that will navigate to the Moon, take some data, and send it back. While our project won't be the first to the Moon, it will be elegant, efficient, and provide a spectacular opportunity for students ... and professors like me! I'm so fortunate to be part of this!
As Robert Wilson spoke in his testimony to Congress, "In that sense, this new knowledge has all to do with honor and country but it has nothing to do directly with defending our country except to help make it worth defending."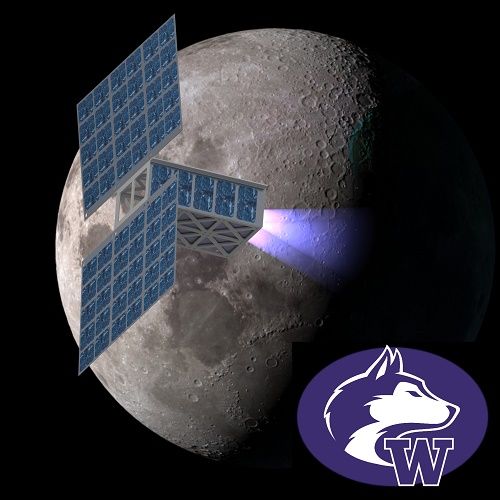 Help UW Get to the Moon and Beyond!

We are looking to raise funds to support the UW CubeSat program in the construction of a small satellite. These funds will enable an entry from UW to participate in the NASA Centennial Cube Quest Challenge, with the ultimate goal of winning one of three spots on the 2018 launch associated with the Orion Capsule to fly around the moon. The first evaluation, called a "ground tournament," is in August of this year.



Who We Are
The University of Washington CubeSat program is a new student driven program aiming to compete in the NASA Cube Quest Challenge. Our program is composed of an interdisciplinary group of undergraduate and graduate students, as well as interested faculty members. While the bulk of our members have backgrounds in engineering or science, an interest in space exploration and a the willingness to contribute a few hours of time are the only requirements to participate.


Core team members with plasma propulsion in 3D printed 1U CubeSat and sharing our excitement about Space at the Enumclaw STEM Expo in February of 2015.

What We Do
We are seeking to design, build and fly a small satellite called a CubeSat that is able to go into orbit around the Moon or possibly reach Earth escape velocity and head towards the asteroid belt. We seek to utilize new technologies in terms of communications and propulsion to achieve this very ambitious objective. This work could set the groundwork for new space exploration efforts beyond low Earth orbit if it successful.The program at UW is designed not only to be competitive in this challenge, but also to provide valuable hands-on experience to the students involved and to create partnerships within the community.


Project Objectives:
Funding for our CubeSat initiative will provide

Education:
This effort will give students at UW a unique opportunity to go beyond classroom activities to gain experience in developing a cutting edge system that can have impact for not only their careers but also play a role in the next steps for space exploration.

Innovation
Given our ambitious objectives of achieving Lunar Orbit and Earth escape velocity, we need to develop and adapt new technologies, specifically in terms of communications and propulsion. This work could set the groundwork for new space exploration efforts beyond low Earth orbit if it successful.

Community involvement
Collaboration with local partners in industry
Keeping the community involved through progress updates on our social media outlets
Outreach activities like the Enumclaw STEM Expo
Public presentations, such as Seattle Town Hall
The chance to send your name into Space!
What Your Help Means:
Buying many of the necessary systems commercially could easily drive our costs up beyond $200,000 and would also limit students' educational gain. Instead we are working on developing many of these systems in-house. Support of the program would allow students to develop a non-space rated version of the system to test and validate all the technologies in a fully integrated prototype. This preliminary design would allow us to participate in the ground testing competitions of the NASA Centennial Challenge with the intention of converting this ground system to a space-system in the next few years. Systems, with approximate costs (and "reach" costs if we raise more than our goal) include:

What is this "Cube Quest Challenge"?
The challenge is designed to drive innovation in communication and propulsion for small satellites, or CubeSats, with $5 million in prizes to be awarded to teams throughout the challenge. This includes four pre-launch "ground tournaments" where prizes are awarded to teams deemed most likely to succeed, and larger prizes for completing challenges after launch, More information can be found at http://www.nasa.gov/cubequest/details/ .

Partners
A number of local Washington aerospace companies have pledged support in the form of consulting, collaboration, and materials.

Wide Open Space
This is a great opportunity for the UW CubeSat program to grow further into its full potential, and we would like you to be a part of it. Everybody is invited to follow our progress on Facebook, and we will recognize donors proudly through our donors list. Also note that 100% of donated funds go directly to funding this project. We hope you'll join us in this exciting venture to open up big spaces for small satellites!

Students discuss what motivates them:
"Simply, the fact that if we succeed, or fail in the attempt, we will have been part of team that accomplished something that would have been unimaginable just 75 years ago." -Devin Saywers

"Our CubeSat project is especially exciting because it gives students the opportunity to work on a space-focused mission and involves collaboration between the several different component teams. Developing the systems for a space-based environment is an exciting and fascinating challenge." -Philip David






Lee Anne Northway
Gave $50.00
Matthew Winglee
Gave $10.00
Nathan Briley
Gave $25.00
Kathleen Walker
Gave $500.00
Eagle Harbor Technologies, Inc.
Gave $250.00
Timothy Ziemba
Gave $100.00
Michael Oliver
Gave $100.00
Jamie Waldock
Gave $100.00
Wanda Frederick
Gave $25.00
Nadia Essenpreis
Gave $10.00
Patrick Gibbs
Gave $25.00
Avaliant LLC
Gave $500.00
Amanda Martini
Gave $50.00
Reuben Edminster
Gave $50.00
Fangzhen Teng
Gave $50.00
Cleo Mavriplis
Gave $50.00
Phil Erickson
Gave $50.00
Jan Schiefer
Gave $170.00
Jeffrey Huse
Gave $100.00
Shirley Kronheim
Gave $100.00
Kathleen Taylor
Gave $50.00
LAURENT BOURDETTE
Gave $25.00
Kristina Fuerst
Gave $50.00
Angela Stickle
Gave $50.00
Jeff Koechling
Gave $50.00
Joshua Krissansen-Totton
Gave $30.00
Peter Winglee
Gave $100.00
Robert Holzworth
Gave $100.00
Helen amd Pat Kane
Gave $250.00
James Miller
Gave $100.00
Frances Hartung
Gave $100.00
John and Gaynelle Stamm
Gave $100.00
Victoria Meadows
Gave $100.00
Joanne Bourgeois
Gave $100.00
Kristina Sumner
Gave $25.00
Evelyn Harnett
Gave $50.00
Austin Arechiga
Gave $25.00
Martine Paradis
Gave $100.00
Greyson Siegel
Gave $100.00
Melinda Travis
Gave $35.00
Colleen Shelton
Gave $50.00
Kristina McCarthy
Gave $25.00
Alireza Nima Mahanfar
Gave $50.00
Scott Willoughby
Gave $250.00
Robert bullock jr
Gave $50.00
Kathleen Walker
Gave $100.00
Lee Anne Northway
Gave $300.00
Scott Naucler
Gave $100.00
Harriet J Sachs
Gave $100.00
Julia Heydenreich
Gave $30.00
Alison Duvall
Gave $25.00
Jonathan Wrobel
Gave $100.00
Setthivoine You
Gave $100.00
Ursula West Valley Hardwood Floor
Gave $100.00
Beth Boardman
Gave $25.00
samantha wilder
Gave $25.00
Kathryn Winglee
Gave $50.00
Mohammad Zarrabi Kashani
Gave $100.00
Morgan Shusterman
Gave $40.00
LeAnn Boardman
Gave $200.00
claudia sachs
Gave $100.00
Virginia Mellema
Gave $100.00
Kelley Mitchell
Gave $50.00
Devin Saywers
Gave $40.00
Devon Simpson
Gave $25.00
Dianne Thompson
Gave $10.00
Linda Mellema
Gave $50.00
Claire Northway
Gave $100.00
Kristen Massey
Gave $25.00
Gabriel Saywers
Gave $25.00
Teresa Saywers
Gave $25.00
Melody Danner
Gave $100.00
Mitch Danner
Gave $100.00
Kristan Danner
Gave $100.00
Joshua Batölein
Gave $10.00
orlay johnson
Gave $25.00
Jamie Ferrier
Gave $100.00
Robert Winglee
Gave $500.00
Nathan Chaffetz
Gave $5.00
Erika Harnett
Gave $100.00
23 supporters have chosen not to be listed for "UW Race to the Moon".
Make an Impact
Knowing we have your support sparks our creativity for innovation, and allows us to buy the basics: wires and tools
Your support gets us off the ground 150ft or so- weight and size are a big issue so we need to go lean and the estimated mass is crucial for the orbit calculation: Personal Thanks from Team
Reach upwards of 500 ft. We can now start prototyping CubeSat subsystems. Some of these include: power systems, cameras, communications, and propulsion
High-Power Rocketry
Give $100
Achieving 2,000 to 50,000 ft of altitude. Integrating and consolidating the various subsystems into a the tiny CubeSat form factor takes time and multiple revisions.
Sounding Rocket
Give $500
You're half way to space with ~150,000ft of altitude! Testing in low temperature and low pressure environments is a must, as it helps eliminate many problems which can occur in space
Space Shuttle
Give $1,000
Congratulations on reaching Low Earth Orbit; the ISS is around 250 miles above the surface of the Earth. Some expensive components, like high efficiency space rated solar panels, are simply beyond our ability to build.
The Atlas V rocket launched the most recent US mission to orbit the Moon. A donation of this amount could buy us time to use the Deep Space Network to verify that we are in orbit around the Moon.